Fleet Captains
We are an inclusive club with fun and competitive sailing for all abilities whatever your skill level find out more about our fleets at Brading Haven Yacht Club.
Captain of Racing Ben Wood

Racing takes place all year round at BHYC and you can see Captain of Racing Ben Wood, in his Laser 2, BHYC Swan or a Scow. We race on a Saturday and we have social sailing on a Sunday , we have an evenings series, plus an open Icebreaker series in the winter months. Ben will support you if you're new to the Club to understand how things work and if your new to the Club and want to find out more coming along to one of our Happy Hours on the first of each month to meet the team below.
Scow Fleet

Scow Captain - Ron Elliot
The Bembridge Scows are a local class to the area. They are a single handed boat, easy to sail, with a gaff main sail and no jib which suits the conditions found in the area.
There are about 45 Scows in the club which can be seen parked along the front apron with more based around the harbour. They race as a class in their own fleet at BHYC and may also join the Slow Handicap fleet having a Portsmouth Yard Stick number of 1600. There are Scow Trophies for the various series as well as one off Trophies for the Club Regatta. There is an Open Championship each year in August with Scows competing from several local clubs. Brading Haven has an annual Scow team racing competition, with home and away matches against Yarmouth Sailing Club.If you would like to read more about the history of the Scows, please click here.
The Club has a Scow, sail number 577, for hire to members - please book here.
If you require more information please look at the Sailing Programme or contact Ron Elliott at the Club.
------------------------------------------------------------
Bembridge Swan Fleet
Swan Captain - Duncan Bates
Designed by Alan Coombes in 1955, the Bembridge Swan has been a familiar sight at Brading Haven Yacht Club (BHYC) for many years.
The older Swans were built of wood and a few of the 20 or so that were built in the 1950's still survive, a testament to their owners' dedication. The GRP version joined the fleet in 2005, built by E Wade & Co. Moored together in Bembridge Harbour, their colourful hulls that rise and fall with the tide are a delight to behold.The "Swan" is a stable, half decked day boat with a main and jib. It is a versatile vessel, roomy enough for a family picnic and fast enough to make class and handicap racing interesting. They race with the slow handicap fleet having a Portsmouth Yard Stick number of 1290; however they do have their own series and the annual Swan Championship. Designed for longer passages, owners can also enjoy day sails further afield, either racing or recreational. If you require more information please look at the Sailing Programme or contact Duncan Bates at the Club.
If you would like to sail one of our two Club Swans, please book here.
The Swan World Cup 2017 was hosted by Brading Haven Yacht Club, Bembridge, Isle of Wight, UK on 16th August. This video is a collage of moving and still images of the event, produced by Christopher Offer.
------------------------------------------------------------
Laser Fleet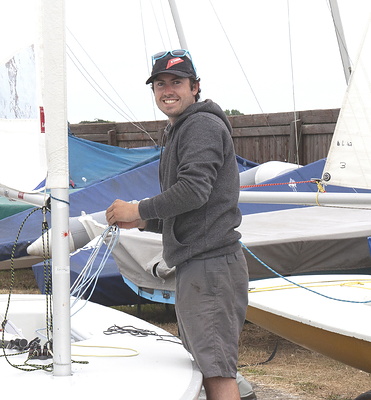 Laser Captain - Karl Schafer
Whether you are a complete beginner or a top Club racer, Brading Haven Yacht Club has a lot to offer for Laser dinghy sailors. With a growing fleet on the Isle of Wight, we can offer racing and coaching sessions. So if you're starting out in the Laser or want to join Club racing come and see what we have to offer.
At Brading Haven Yacht Club you can sail and race all year round. With organized racing every weekend and programmed coaching sessions, there are plenty of opportunities to get out on the water.
------------------------------------------------------------
Cruising Fleet


Cruising Captain - Chris Wade
The Cruising Section is an active and well supported part of the Club, and above all it is friendly and accessible to all. We cruise in company to local ports during the sailing season and always welcome new members to our section.
During the months of September through to April the section organises monthly walks all over the Island, ranging from short local strolls to bracing hillside treks and always followed by lunch at a nearby pub or sailing club.
For full details on all our cruises and walks for this current year please see the Sailing Programme and look out for the detailed information in the Newsletter and on the Club notice board closer to event dates.
------------------------------------------------------------
Flying Fifteen Fleet
Flying Fifteen Fleet - Chris Wilkinson
The Flying Fifteen is sailed and raced in several countries around the world on the sea, estuaries and inland waters. At BHYC you will see the Flying Fifteens out joining in Club racing and we have six boats at the Club.
The boat is 6 metres long and the 15 refers to the original waterline length - 15 feet (4.57m). The Flying Fifteen is a dinghy with a keel.
BHYC Cadet Captain - Laurence Blackburn
Brading Haven Yacht Club have has a well established Cadet Section. Depending on the tides we start Spence Willard Afterschool sailing from early April until the Summer holidays, then we have a fun fill summer of RYA courses, Activity week and racing and sail as often as possible. Laurence runs the shore side and social events on the water with the help of our two Cadet Representatives Grace and Gabe they all support the the BHYC Cadets and plan and run Cadet nights in the winter. They also support the beach cleans, join in the the beach surveys and look after the Eco Club at the Club.

Cadet Representatives
Gabe Davies and Grace King
Ladies that Launch
Ladies have been sailing socially and competitively at Brading Haven Yacht Club since 1950. BHYC is proud of their legacy and want to build on their successes and encourage even more women into sailing. The Ladies that Launch group has been supporting women sailors of all abilities since 2013 and many of those who joined us as beginners are now regularly participating in social sailing and racing.
The Ladies that Launch ethos is to ensure that everyone has opportunities to improve their skills and confidence. That might be through RYA accredited group and individual training led by the training team or mentoring and practice sessions supported by Club Members. We enjoy the fun, friendships and camaraderie we forge as we hone our confidence and technical skills out on the water.
Many friendships have been formed on the back of our training courses, workshops, social sailing and racing activities which take place throughout the year. We also enjoy off the water social activities. All details are advertised in the Club newsletter, If you are interested or would like to know more about joining us please email offshore@bhyc.org/uk
Last updated 10:58 on 23 April 2022