Where Are They Now?
Cadets who learnt to sail at BHYC and how learning to sail has given then a career.
-----------------------------------------------------------------------
Feargal Finlay
I grew up in the boat park of BHYC, with the Solent's water running through my veins. I was a product of the famous Sail Training Week, run byt Richard Overton and John Whitehead and their whole cast of team members, and I have amazing memories of those days. The biggest influence of my sailing came through Chris Wilkinson, a teacher, coach and father, the order changed depending how I was sailing. We raced together in his Mirror Dinghy number 106 for some years up until the 2002 Carr Cup at Seaview, where we survived the race in 20+ knots, only for the rig to fall down in a light airs middle distance race the next day at BHYC. After this I was sailing Optimists and touring around the country with Chris and my mum Noreen and enjoying success along the south coast but struggling in the big fleet national events with 100+ boats on the line. I went on to represent BHYC at two World Championships and many UK National and Mixed Class events in the Europe Dinghy, which I believe is still at BHYC. Once yacht racing was exposed to me in 2006, racing Farr 45s across the south coast and Ireland, it was hard to look back. Sailing with Farr 45s Excel and Atomic brought a lot of success and paved the way to sailing with TP52 Gladiator in Europe and around the world since 2010.
Since 2016 I have been the Boat Captain of Gladiator TP52, racing in the 52 SuperSeries, consisting of managing the pit crew shore team and keeping the boat to an elite standard, and racing onboard the IRC TP52s Gladiator in the role of Navigator, enjoying success winning the Round the Island Race, RYS Bicentenary Regatta, Voiles de St Tropez, Cowes Week and some big highlights with 3rd at the TP52 World Championship in 2011, and a tight runner up in Mahon Royal Cup in 2017 amongst many many others.
I owe a huge deal of the success and life I have enjoyed so far to BHYC and everything that it and its members and staff taught me as I grew up in the world of sailing. A special thank you to these club legends, who pushed me so hard growing up to be better : Roy Knight, Dickie Wirdnam, Barry Dyer, Graham Sutton, David Earee and Dave Wise.
Feargal
I also would like to dedicate this to Ray Hurst, who never didnt have time to help me or anyone else around the club, no matter how busy he was.
-----------------------------------------------------------------------
Ed Callaghan
I've been sailing with BHYC since around the age of 8, going through the RYA syllabus from Level 1 up to Start Racing; many a fond memory of Oppy capsizing and soggy packed lunches!
At the age of 17, I qualified as a Dinghy Instructor and have had the pleasure of teaching groups of all ages at the Club in the years since.
Through my later teen years, I struggled to settle on a career path, with schools always pushing for students to attend university. Being far more practical-minded than academic I knew that wasn't going to be for me.
I had heard of the glamorous and mysterious world of Superyachts through several older cadet students from the Sailing Club and through a few family friends. I knew I wanted to work at sea, and having grown up with a love for leisure sailing it seemed like a perfect solution. After some research into the Industry and how to get a foot in the door, I began the UKSA Yachting Cadetship for Officer Of the Watch in late 2015 and graduated Phase1 of my training ( RYA Yachtmaster offshore and various other required basic training to work at sea).
Since 2016 I have had the privilege to work on Motor/Yacht Madame GU, M/Y Here Comes The Sun, M/Y Yalla, and M/Y Lady S, building up my knowledge and skillset from a Junior Deckhand to my current role of Bosun on a 99m yacht, overseeing a team of 7 deckhands.
Work on large yachts is quite unlike any other job a seafarer can do. Whether it's driving the world's rich and famous in the limo tender, heaving mooring lines, grinding out rusty metal, manning the bridge on a night passage, scrubbing the decks, or teaching a billionaire how to jet ski, there can be such enormous variety in any one working day.
It's a fantastic job that I love doing, my only regret is that I don't often have time to get back home to Bembridge and head out on the water in the dinghies where it all started!
Ed
-----------------------------------------------------------------------
Ben Smith
My family were very lucky to be born into sailing, my Grandfather Peter Smith was a founding member and an Admiral of BHYC and my Mum's father Royce Poke joined the Club with his family who also regularly sailed from BHYC as well as becoming a Commodore.
I learnt to sail from a very young age with my parents in the Scow, racing as crew and learning to sail single handed from the middle pontoon at BHYC (see picture below). Also I attended every sail training week course and level they had to offer until I started teaching courses at the age of 16. For many years I loved racing regularly from the Club single handed in a Topper and with my brother in the RS200 and also tried in other international, national and local events in a host of boats from yachts and keel boats to dinghies.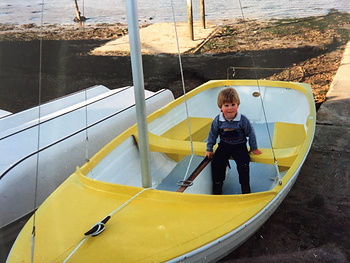 Instructing soon took over my weekends and holidays and I would offer private lessons to anyone off any beach around Bembridge and St Helens, and this became the basis of my now full time business.
At Plymouth University there was a course called Applied Marine Sports Science and as an average academic student I was drawn in by the practical sciences in my area of interest, I could study my hobbies, further my qualifications and get a degree!!
Travel and work followed uni for a couple of years in the shape of being a yacht master on Superyachts and yacht deliveries as well as skippering power boat tours around the Channel Islands in the summer months. The Idea for an adventures based career came after a busy summer of teaching sailing privately where my now business partner and I have a local offering for all things water sports and outdoor pursuits.
Ben
-----------------------------------------------------------------------
Last updated 13:47 on 24 February 2022