NEWS
BHYC WEEKLY NEWS ISSUE 793 22nd SEPTEMBER 2021
HEADLINES
AGM Final Reminder - Friday 24th September 2021 8pm
Today and tomorrow we will send an all Member email with links to the AGM Booklet, Accounts for 2020/2021 and a link to vote online for those unable to attend the AGM. Your votes and feedback are important hence the reminders that have been sent over the past several weeks.
For your comfort and safety, we have limited numbers attending on the night to 30 therefore please reserve your place by emailing secretary@bhyc.org.uk. The meeting will be available via Zoom for those unable to attend who wish to listen and observe proceedings.

If you have any questions on any of the above please email secretary@bhyc.org.uk.
Management Committee
SAILING & CRUISING
Autumn 5&6 Race
As the Race Officer, I always track the weather in the five days before the race so I can plan the course. It didn't look hopeful as everyday it said that on Saturday 18th September, the wind would be a maximum of 2 knots!!! However, the weather forecast was wrong and the wind came up to a fairly steady Force 3 blowing from the East.
As the regular sailors will know, if the wind is coming from the East then the sea outside of the harbour will be a little lumpy and it was! It made it a bit of a rocky ride on the committee boat, Sir Pelinore. Undeterred, a course was set for dinghies, with the Fast Handicap going out to E ( Under Tyne) , @ (Spence Willard), # ( Pepe) and O (Old Church). Meanwhile the Slow and Scow fleets were sent to G( Garland), #( Pepe) and O ( Old Church).
This was fine until the wind, continuing to be unpredictable, backed to East South East and the windward leg altered to being a reach and the wind disappeared at the Spence Willard buoy! Oh dear!
The race continued and both fleets rounded the set courses without too much difficulty.
In the second race, the course was altered for the wind shift and the windward legs were suitably reinstalled!
In the first race for the Fast Handicap, there was a significant tussle between the Flying Fifteens , the Contender and the Devoitte D-Zero. In the second race, Tony Burton, in his Contender, was magnificent on the trapeze and crossed the line first closely followed by the Flying Fifteen, helmed by Martyn Davies and crewed by Richard Coleman although on handicap, the FF15 won.
In the Slow Handicap, all the challengers were in Swans. In both races, Duncan Bates and his crew, Kate Garnham, took the early lead and went on to win.
In the Scows, Paul Gould won both races, but was hotly pursued by Mike Bottoms in the second race. Chris Girling showed tenacity in the second race, battling both the wind,the tide and the waves.
Full results are on the website.
Thank you to the Safety Boat Crews, and the extra support from Robin Lobb, especially with the inspired suggestion for the altered course for the Scows and Slow Handicap. Thanks to Jan Webb as Assistant Race Officer.
Finally, just one note to the dinghy sailors, thank you for letting the Committee Boat know that you are retiring - it helps us ensure that the race is being run safely.
Grainne Andrew - Race Officer
Merrydown Regatta - Royal Victoria Yacht Club
The Merrydown Regatta was held on 18th and 19th September and was two good days of racing.
The Merrydown trophy was awarded for both day boats and fast handicap fleets, which raced together in a special race each day. There was Scow, Slow and Novice fleet racing also. With lights wind over the two day, Saturday being better than Sunday everyone did well.In the fast fleet BHYC Cadets Arthur Farley took 1st and Kristian Schafer took 3rd overall . Also Arthur went on to win the Merrydown trophy for both days.
Online VR Racing - Arthur Farley takes Gold

From online Club racing in lockdown with the RYA VR initiative to keep members busy and still sailing together Club Cadet Member Arthur Farley has gone on to win the GBR eSailing National Championship Final!
Sailing as VIT Farley, Arthur finished in top spot in the Nacra, 49er and J70 class races, with an overall score of 21. Will Hensley, sailing as WH-GBR, claimed second with 20 points, whilst Mike O'Donovan from Stokes Bay Sailing Club, as Ronston Deja Va, finished third.
It all came down to the final race, and was extremely close between Arthur currently ranked no 1 in the world, as Arthur explains: "It was tough. I put a lot of pressure on WH-GBR from far away and I created the distance for him to be fourth which was the winning move I think. It was really good to come away with a win especially against some of today's players, like the UK team. This season I think we have become one of the best countries in the world so it's really good to come away with Gold."
Label Your Trailer

We are asking Members to label their trailer with these red tags to support racing, training and coaching. As we have many boats returning to the Club at the same time, if your boat trailer has your sail number on the label it will support members onshore to find your trailer with ease.
The red labels will be for BHYC Members and the blue labels will be for Club Boats, so trailers do not get mixed up. Your FREE red label label is available from the Training Team Office, please use a permanent marker to add your details.
Laying up Supper & Prize Giving - Saturday 16th October

Join us at BHYC for our annual Laying up Supper and Prize Giving on the 16th October. We have some cups for Race Officer of the year, Safety Boat Volunteer of the year and After-School Sailing Cadet of the year. Also Sail Training Summer Cups will be given out on the 16th.

Please put your name and menu choices on the list in the Club foyer or call the office to reserve your place. Which will be available from this Friday the 24th of September All members welcome.
Offshore and Onshore Teams
Save the Date 29th of October
Join us on the 29th of October for a Spooky Fiesta. Fun for all the family, disco, games, carve a pumpkin competition, wear your best Halloween costume, food and more. 19.00 to 22.00.
Classified ads

The Club will be selling some of our boats over the coming weeks, a Wayfarer and a sit-in smaller kayak for example. If you would like more information, register your interest on boats available please contact secretary@bhyc.org.uk.
TRAINING
Half Term Sailing Sessions - 19th to 21st & 25th to 27th October
Half term sailing sessions are now available to book online. Some sessions will give the cadets an opportunity to practice what they have learned in their RYA courses other sessions will cover start racing. If you would like to sail with your friend we will have the RS Fevas, Picos and RS Quest on the water.
Winter Coaching
Laser and Tera will be starting back at BHYC and this winter we will have visiting coaches for both fleets. To find out more email training@bhyc.org.uk or go to www.bhyc.org.uk to book. Club boats available to hire which you can book separately to the coaching sessions.

Powerboat Courses PB1 & PB2 - October and November
28th of October PB1 - 8 years to 11 years.
1st to the 2nd November PB2 - 12 years and above.

3rd to the 4th November PB2 - 12 years and above.
Please book online www.bhyc.org.uk
SAILING SUPPORT
Click on the image above to see a live feed from the BHYC weather station.


Click on this link to see live weather information from Cowes Weather Station

Click on this link to see a detailed five day weather and sea state forecast for St Helens (Beach)

To see the complete Sailing Support Duty Roster, check your assigned duties, and propose and accept duty swaps, please login to the BHYC web site using the credentials which were sent to you, and use the left side menu. To volunteer for duties:

LogIn to the BHYC website; you will need your password
Find Duty Roster on left menu
Click Volunteer for duty at selected event
To Cancel duty go to My Duties on left Menu and select Cancel

If you have any questions about the duty roster, please email the Duty Officer

If you have any difficulty logging in, please email the Club Secretary.
SOCIAL ACTIVITIES
Music Night
It was great to hear some live music in the Club last Friday and Troy our Caterer was kept busier than expected with over 60 wanting supper! Keep your eyes peeled for more Free Music Nights over the coming months.
Bring & Buy This Saturday

Please come and support this fundraiser for the Club between 10am and 12noon on Saturday. Items to sell can still be dropped off today and tomorrow in the Haven Room.
October Quiz Night
As the nights draw in why not get those little grey cells whirring to help keep warm!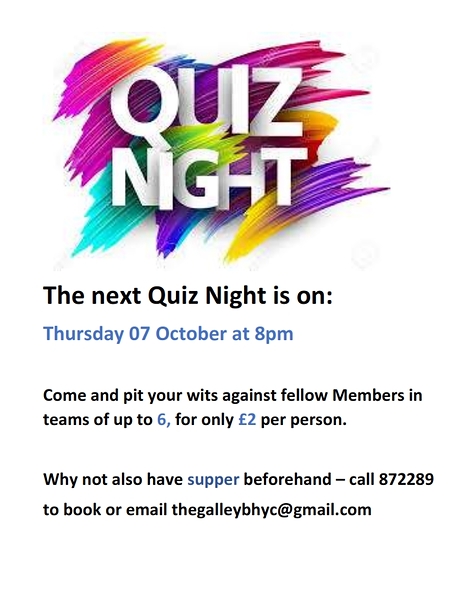 Trafalgar Night Saturday 23 October
Watch out for more information in next week's Newsletter.

Birdwatching @ BHYC
This popular monthly event returns to BHYC on Monday 11th October, sign up sheet is in the lobby or if you are interested simply email secretary@bhyc.org.uk and we'll get you on the list.
CLUB CALENDAR


HOUSE, BAR & GALLEY
Galley
Troy will be offering Galley dining services Thursday evening (catering for a local group on Thursday afternoon), Friday and Saturday afternoon and evenings plus Sunday roast this week.
More information will be provided weekly as we work closely with Troy to support his business.
If you need any further information email secretary@bhyc.org.uk or call 873911.
Bar Service

The Bar is open for normal Bar service, 7-days a week, every lunchtime and 4 evenings a week as follows;
Monday to Friday - midday till 2:30pm
Wednesday to Friday - 5pm to 11pm

Saturday - midday till 3pm and 5pm to 11pm
Sunday - midday to 4pm
We hope to see you all very soon.

The above times will be subject to change i.e. based on usage, if the Clubhouse is not being utilised the staff have been asked to close at their discretion.
CLUB OPERATIONS
Clubhouse
The weekend was off to a flying start as our Onshore team delivered a free music night on Friday. Troy in the Galley we very busy albeit I know the wait was worth it. Over the weekend Gerry Hinchliffe displayed his superb array of wooden furniture, the craftsmanship of the items was noted by many and we look forward to seeing more of Gerry's work at the Christmas Fayre. The Offshore activities continued with the Autumn Race on Saturday and a Long Distance Race on Sunday.
Health & Safety
Nothing major to report.
Communication

I am available Monday to Friday 8am till 3pm, if you need to see me outside of these hours just let me know and I will arrange to meet, email me on secretary@bhyc.org.uk. Our Bosun, Duncan Bates, is available during most of the week and weekends. If you need any help or guidance please email secretary@bhyc.org.uk

John Maher
Club Manager & Secretary
Last updated 12:53 on 22 September 2021