Autumn Series 2020
Despite COVID limitations, it is intended that we will run the Autumn Series to sign up please email offshore@bhyc.org.uk. Please note that we have new COVID 19 regulations and it is important that when onshore you will need to be limited to a group of six.
The Frostbite series will start from the 31st of October.
---
Round The Yellow Buoys Race - 3rd October
It has been decided that the Harvest Race scheduled for a 1200 Hrs start Saturday the 3rd of October will now be known as the "Round the Yellow Buoys Race" in support of the Go Yellow day being organised as a fund raising event for the Mountbatten Hospice.
The race will involve sailing round as many of the yellow buoys outside Bembridge Harbour as possible depending on the weather conditions. The Race will be split into two groups, one for adults and the second for junior helms not more than 17 years old on the day. There will be an exciting array of prizes for each group. For example the winner of the adult group will be treated to a meal for two with a bottle of wine at the Club, second place a bottle of Mermaid Gin and third a golfing umbrella and a ball point pen. The prizes for the Juniors will be six months free hire of a Club Kayak, a free entry in the Club Hundred Draw and a free Club training course. There will also be a prize for the best yellow attire worn by a crew member
The entry fees for this event are £10 for adults and £5 for juniors. The funds collected will be donated to the Hospice so we look forward to seeing a good sized fleet on the day!
---
IOW Games - Cancelled
Statement from IWIGA Chairman, Kev Winchcombe
Although I and the whole of Team IOW are understandably disappointed with the news of the Guernsey 2021 Games being cancelled, I, along with the Trustees of the Island Games Association fully support this decision.
The uncertainty regarding Covid-19 makes planning and organising the Games incredibly challenging, and also limits competitors ability to train. This combination makes it impossible to progress at this time.
I would like to thank our sponsors, team managers, and competitors for their support, and hope they will be able to be a part of Team IOW at the next Games.
---
Dutyman
The Autumn series started last Saturday and we are now looking for RIBS to cover the next few races please could you send an email to dutyman@bhyc.org.uk if you can volunteer.
---

BHYC Racing - September/October

As we move into Autumn we have updated the September/October programme for racing and training.
PB2 courses start this September and RIB practice sessions to support members wishing to join Dutyman. We will also be running some workshops for Race Officers and Assistance Race Officers more in next weeks newsletter.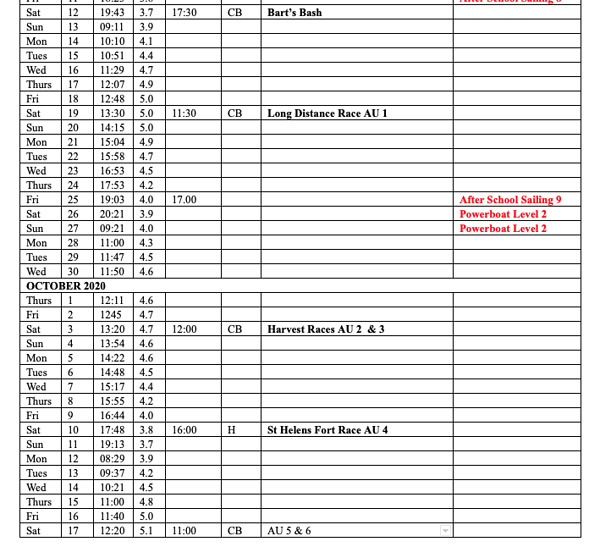 ---
Keeping You Informed - WhatsApp!
As the Government guidelines are being updated, communication is key. We have set up the BHYC Racing and Recreational Sailing Group, information that is in the newsletter will be added to this group and any updates on racing, social sailing, weather courses.
To sign up please send your name and mobile number to secretary@bhyc.org.uk
---
---
Boats For Sale
Club Boats for sale - we still have three 420's for immediate sale. Contact secretary@bhyc.org.uk for further details.
Duncan Bates has a D-Zero for sale, if you are interested. Fully pimped, super quick D-Zero number 114. All lines upgraded and more purchases that you could shake a stick at. Super clean and polished hull and foils. Zhik strap. Breathable top cover. Foil bag. Good condition with a couple of small cosmetic repairs. Dry hull. Comes with the original sail, well used but fine for club racing. Plus a brand new sail used for 3 days only. I have only sailed her 6x this year, new boat on way hence selling. She's a great boat. Nationals race winner and placed 6th in the 2017 and 2018 Nationals. £4950. Details 07971297415.
Steve White, looking to take offers, 07960 386677. Topper, no trolley, ready to go.

We are always happy to support Members by advertising boats for sale or boats that will be available soon. We've had a fantastic response, selling Club and Members' boats through the Newsletter. This is a free service so do let me know if we can help. For all enquiries or to get in touch with advertisers simply email secretary@bhyc.org.uk and we'll do our best to help.

Last updated 10:19 on 30 September 2020