NEWS
BHYC WEEKLY NEWS ISSUE 743 30th SEPTEMBER 2020
HEADLINES
Updated Clubhouse Restrictions

New Government instruction and guidance has been followed and to combat the rise in Coronavirus cases and to minimise the potential increase in cases for the next several weeks and maybe months. On Thursday 24th September we implemented a Bar table service and close by 10pm.
From Thursday 24th September It is compulsory to wear a face covering while entering or moving around the Clubhouse. When you enter the Club, find a table and take a seat, you can remove your face covering while seated. Once at your table we will take your order, payment and return your order to your table. When you leave your table, for whatever reason, you must replace your face covering until your return to your table or your are outside the Clubhouse.
This is the law of the land and we must strictly follow the above until Government advise otherwise.
The need to be vigilant with regards to H&S remains a key focus for the Club. Your comfort and safety is extremely important and we need your support to achieve the safe environment we all want. Changes to restrictions took effect on Thursday 23rd September as the Government refocus on Coronavirus and continual ways to combat the spread. Please do not be complacent and let your guard down as you are aware, Coronavirus remains a real issue and has not gone away. We must continually remind you of the following;
You must wear a face mask to enter the Clubhouse.
Sign-in every time you visit the Clubhouse, annotate you name, contact number or Membership number and the time you enter the Clubhouse.
Once at your table, and while you remain seated, you can remove your face covering.
Please find a table and be seated, we will take your order at your table.
The rule of six means you must maintain social distancing with other groups i.e. do not table hop, keep socialising within your group for the duration of your stay.
Remember to social distance at all times.
Follow the H&S Notice guide.
Avoid touching surfaces and furniture other than where you are sitting.
Always clean the area after use with the cleaning materials available throughout the Clubhouse.
Tables have been positioned to maximise social distancing and must not be moved please.
Always return your empty and used glasses to the Bar following your stay.
All dogs must be be kept on a lead at all times while on Club premises.
Please think of your fellow Members at all times.
In general please be mindful of cleanliness and social distancing at all times. Our aim is to ensure you feel comfortable and safe. We cannot achieve this without your cooperation, if in doubt ask for advice or email secretary@bhyc.org.uk.

SAILING & CRUISING

Autumn Series 2020
Despite COVID limitations, it is intended that we will run the Autumn Series to sign up please email offshore@bhyc.org.uk. Please note that we have new COVID 19 regulations and it is important that when onshore you will need to be limited to a group of six.
The Frostbite series will start from the 31st of October.
Round The Yellow Buoys Race - 3rd October
It has been decided that the Harvest Race scheduled for a 1200 Hrs start Saturday the 3rd of October will now be known as the "Round the Yellow Buoys Race" in support of the Go Yellow day being organised as a fund raising event for the Mountbatten Hospice.
The race will involve sailing round as many of the yellow buoys outside Bembridge Harbour as possible depending on the weather conditions. The Race will be split into two groups, one for adults and the second for junior helms not more than 17 years old on the day. There will be an exciting array of prizes for each group. For example the winner of the adult group will be treated to a meal for two with a bottle of wine at the Club, second place a bottle of Mermaid Gin and third a golfing umbrella and a ball point pen. The prizes for the Juniors will be six months free hire of a Club Kayak, a free entry in the Club Hundred Draw and a free Club training course. There will also be a prize for the best yellow attire worn by a crew member
The entry fees for this event are £10 for adults and £5 for juniors. The funds collected will be donated to the Hospice so we look forward to seeing a good sized fleet on the day!
IOW Games - Cancelled
Statement from IWIGA Chairman, Kev Winchcombe
Although I and the whole of Team IOW are understandably disappointed with the news of the Guernsey 2021 Games being cancelled, I, along with the Trustees of the Island Games Association fully support this decision.
The uncertainty regarding Covid-19 makes planning and organising the Games incredibly challenging, and also limits competitors ability to train. This combination makes it impossible to progress at this time.
I would like to thank our sponsors, team managers, and competitors for their support, and hope they will be able to be a part of Team IOW at the next Games.
Dutyman

The Autumn series started last Saturday and we are now looking for RIBS to cover the next few races please could you send an email to dutyman@bhyc.org.uk if you can volunteer.
BHYC Racing - September/October

As we move into Autumn we have updated the September/October programme for racing and training.
PB2 courses start this September and RIB practice sessions to support members wishing to join Dutyman. We will also be running some workshops for Race Officers and Assistance Race Officers more in next weeks newsletter.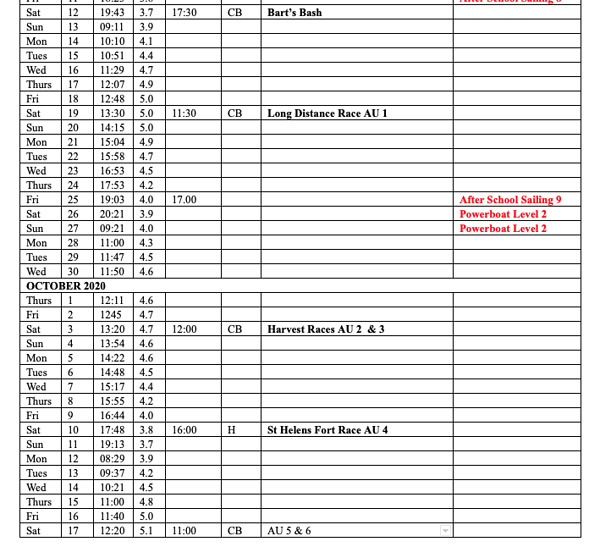 Keeping You Informed - WhatsApp!
As the Government guidelines are being updated, communication is key. We have set up the BHYC Racing and Recreational Sailing Group, information that is in the newsletter will be added to this group and any updates on racing, social sailing, weather courses.
To sign up please send your name and mobile number to secretary@bhyc.org.uk
Boats For Sale
Club Boats for sale - we still have three 420's for immediate sale. Contact secretary@bhyc.org.uk for further details.
Duncan Bates has a D-Zero for sale, if you are interested. Fully pimped, super quick D-Zero number 114. All lines upgraded and more purchases that you could shake a stick at. Super clean and polished hull and foils. Zhik strap. Breathable top cover. Foil bag. Good condition with a couple of small cosmetic repairs. Dry hull. Comes with the original sail, well used but fine for club racing. Plus a brand new sail used for 3 days only. I have only sailed her 6x this year, new boat on way hence selling. She's a great boat. Nationals race winner and placed 6th in the 2017 and 2018 Nationals. £4950. Details 07971297415.
Steve White, looking to take offers, 07960 386677. Topper, no trolley, ready to go.

We are always happy to support Members by advertising boats for sale or boats that will be available soon. We've had a fantastic response, selling Club and Members' boats through the Newsletter. This is a free service so do let me know if we can help. For all enquiries or to get in touch with advertisers simply email secretary@bhyc.org.uk and we'll do our best to help.

TRAINING

Powerboat Level 2 Course

The RYA Powerboat Level 2 course will introduce you to the world of power boating, teaching you how to drive a boat and plan short passages. The following dates will be available, 26th to 27th of September and 10th to 11th of October. To book go to training reservations online soon, email secretary@bhyc.org.uk if you have any questions, cost is £175.
Training team

Autumn Laser Coaching
The Laser Fleet coaching starts this Sunday with 4.7 and Radial rigs out on the water, we will have three fleets running so please sign up online. Due to COVID 19 all briefings and debriefs are online and sessions recorded on video.
The October sessions run from the 4th, 18th and 25th and November 8th,15th,22nd and 29th. We have Club Lasers which you can hire. Please book online if you wish to join the session this weekend.
Sail Training Week Summer 2021

After a fun-filled summer we have started to plan ahead for next year, here are the dates for the main Sail Training Week 2021. Booking can be made from January 2021.
SAILING SUPPORT
DUTYMAN - click on the button to see the full rota

- scroll down to see more

DUTYMAN FAQ - frequently asked questions


Click on the image above to see a live feed from the BHYC weather station.


Click on this link to see a detailed five day weather and sea state forecast for St Helens (Beach)
SOCIAL ACTIVITIES
Quiz Night

There is a sheet in the club foyer for you to sign up your team for the first Quiz of the season. Numbers are restricted to 30, they are filling fast!, which does include the Quiz master. Quiz starts at 8pm sharp so we can finish in time to enable us to close the club at 10pm.
Trafalgar Night - Saturday 24th October
Due to the new Government restrictions we have decided to slightly alter the start time for the evening, it is now 6.30 for 7.00. The table plan for the evening will be going up on the notice board shortly. The list and menu are now up on the notice board, please check you have confirmed your food order via the list. We can confirm that the guest speaker is Commander Eleanor Stack RN, who some of you may have seen appearing in the TV series WARSHIP.
Bingo Is Back!
Bingo maestro Gordon Wight will be in touch with our regular bingo goers to ensure we maximise the most popular of autumn events while maintaining comfort and safety.
Gentlemen's Lunch
The Gentlemen's Lunch on Friday 18th September as always was a very convivial affair. The Caterers excelled themselves by providing a delicious Beef Wellington plus a delicious sweet and together with a few bottles of wine provided a good start to the weekend. The next Gentlemen's Lunch will be on Friday 16th October.
100 Club - winners for September
31 Spare number. 85 James Gabbani - £24.00 6 E & J Merrman - £60.00. Congratulations. Next draw Sunday 25th October. There are still some numbers available.
The numbers are available to buy for £24.00 PA, that works out at £2.00 per month and you could win it back in the first month or £60 every quarter, then £300 in December.
Please contact the Club Secretary for further details.
Photograph Inspired Paining

Inspired by photographs by Jonathan Hoare in our Newsletter, Member and artist Yvonne Richards painted this fantastic painting. Yvonne has this for sale for £40 and will make a generous donation to the Club when sold. If you would like to view the painting it is on the wall in the Office, come and look, wear a ace covering to see it in its full glory.
Volunteering @ BHYC - you make the difference!

The 'Last Of The Summer Wine' meet up on Wednesday and working on tasks and projects that make the Club an enjoyable and safe environment. They are continually looking for and welcome new volunteers as the work list is never completed! For more information contact secretary@bhyc.org.uk and we will update you on what we do.
The 'Bosuns' Buddies', a group of volunteers that meet up on Thursday to help Duncan Bates, our Bosun, to maintain, fix and care for our Club boats. Again, we are always looking for volunteers, for more information contact secretary@bhyc.org.uk if you would like to get involved.
Both the LOSW and the Bosuns Buddies ask all Members to continually think of the following; 'KEEP BHYC TIDY'. Whatever your involved in at the Club, please tidy up after yourself and do not leave it to somebody else. We are working together to raise standards and need your support; in the boat parking areas - if your not using your road trolley please take them of site, if you have stored stuff that you no longer use please remove from the Club, if your using or working on your boat do not leave litter around your parking area, litter should never be a problem if we all use the numerous bins available to us and distinguish used cigarettes in the ash trays around the site. It is in our hands to keep BHYC a place we all enjoy and want to visit.
If you are available on other days i.e. if a Wednesday or Thursday does not suit, don't worry we have other volunteer members who would welcome your input. Again just email secretary@bhyc.org.uk and we'll get in touch with you.
CLUB CALENDAR


HOUSE, BAR & GALLEY
Bar

Please be aware of our new table and the need to wear a face covering while moving into and around the Club. We are doing our upmost to maintain the high level of service you are accustomed to. Our extended opening hours until further notice are below, please note: the Club reserve the right to close the Bar earlier than advertised if not used;
Monday to Friday lunchtime - midday till 2:30pm
Saturday lunchtime - midday till 3pm
Sunday lunchtime - midday till 4pm
Wednesday, Thursday, Friday & Saturday evening - 6pm till 10pm (Last orders from 9:30pm and we must ensure Members and guests leave before 10pm)
Galley
We would like to thank everyone for the continued support and hope to see you all soon.

The Galleys extended opening hours:
Wednesday, Thursday & Friday for lunch - midday till 2:30pm
Saturday for lunch - midday till 3pm
Wednesday, Thursday, Friday & Saturday Evening - 6pm till 9pm
Sunday Lunch - midday till 3pm
(Please note: opening times are subject to change)
Menu
We look forward to seeing you soon and are delighted to share our menu which will be updated regularly through the Newsletter to offer Members as much variety as we can.
Sunday Roast - a BHYC favourite!
Chef Webb and I are delighted to welcome you to our very popular BHYC Sunday Roast with Brisket Beef and Giant Yorkies! With the limitations listed above, booking is essential, please call 872289 to book a table and we look forward to seeing you soon.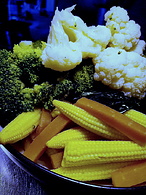 Themed Nights

Every Friday we offer our traditional fish supper, available as takeaway if required. On the 1st October come and join us for a Traditional British night.
Chef Webb & Emily
CLUB OPERATIONS
Club Operations

We have put in place a robust process to serve you at your table so please do visit us soon, the process works well. We will continually look at ways to imbed the new processes and improve efficiencies.
Health & Safety

The sign-in process for Members and guests is working well. The rule of six is a simple one to remember, 'keep to your six and do not over mix!' Social distancing is a must and avoid table hopping, its against the law. The new table service requirement has started well and all Members and guests must wear a face covering when entering and moving around the Clubhouse, once seated at a table you can remove your face covering.
Members are asked to follow the Club H&S notice prominently displayed as you enter the site and notices displayed in the Clubhouse. As advised, if in doubt please ask.
Communication

The Office is open Mon to Fri 8 am till 3 pm. If you need to see me just email secretary@bhyc.org.uk and I will arrange a meeting day and time that suits. Duncan is available Wed - Sun 8am till 3pm albeit he is away for a week from Sunday 4th October.

Please keep safe and well.
John Maher

Club Manager & Secretary
Last updated 11:07 on 30 September 2020