NEWS
BHYC WEEKLY NEWS ISSUE 726 27th MAY 2020
HEADLINES
Message from the Commodore
Dear fellow Members,
I trust you are well and enjoyed the fantastic weather over the Bank Holiday weekend.
Club arrangements - I reminded you all on Wednesday of last week, updated you again on Friday for those using the Club over the extended weekend and have done so again to help understanding at this time;
The Clubhouse remains closed until further notice.
Once on site please observe the H&S notice which is posted outside as you enter.
Please read and follow the guidelines advised to support a safe return to the water and please note, following feedback, we have withdrawn the hire of Club sailing boats until further notice;
With effect from Monday 18th May, we have re-introduced leisure waterborne activities at the Club.
I am sure you will appreciate that the re-introduction of waterborne activities is at your own risk.
As advised last week, John Maher, our Club Manager/Secretary, and Duncan Bates, our contracted Bosun, have returned to their normal duties in light of the changes highlighted above. They have observed a really positive return to the water, with Members who have used the Club doing so with great awareness and we thank them for observing the H&S guidelines, particularly around social distancing. It has been great to see some activity again in the Harbour and on the Solent, and we look forward to a greater return to normality as soon as it is safe and the Government guidance allows.
Thank you for all your co-operation, please continue to be vigilant and continue to enjoy a safe return to the water.
Jeff Cowan

Commodore

SAILING & CRUISING
Getting Back On The Water

We are pleased to see that Club members have been out on the water enjoying the sunny sailing days over the last week and members have also been at the Club to maintain their own boats. Please follow the H&S notice and be aware that we have rigging zones to help social distancing, all members using the facility are asked to be considerate to other users please.
Members are permitted to sail or enjoy waterborne activities either alone, with members of their household, or with one person from outside their household if social distancing guidelines can be followed.
Please read the guide Getting Back On the Water from BHYC Principal & Chief Instructor. We wanted to remind all members of the important things to complete and note as we all look forward to safely getting back on the water. Please click on the link to view - Getting Back on the Water.
Sailing is at your own risk.
Consider this distancing when you park your car.
Use hand gel/sanitiser on arrival at the Club
Use the oneway system around the Club
Maintain two-metre social distancing at all times with other members
Please arrive dressed to go on the water. The club changing rooms will be closed and also the Clubhouse.
Sail well within your level of competency and check the weather and tide times before you go out.
Tell someone where you are going, what time you are expecting to return, and then do let them know you are back safely.
Remember to take a VHF radio or phone.
There will be no racing or training but we hope to have an update within the week.
Offshore Committee

RYA South Finals

Great to see Arthur Farley racing for Brading Haven Yacht Club at the RYA South Finals on Saturday 23rd May. Also thank you to all the members watching it was great to have the support.
The racing was very exciting with some very competitive racing from some top sailors across the south coast, some great port flyers at the start.
Congratulations to Deja Vu from Stokes Bay Sailing, who got through to the National Final of the RYA eSailing Spring Championships taking place on the 30th May! The finals will be streamed live on Yachts & Yachting Online and will take place at 10am.
The full table of results can be seen below.
TRAINING
Sail Training Week 2020

BHYC is currently following the "Return to Sailing" guidelines at present and the outlook for our summer sailing courses is uncertain.
Sail Training Week 2020 will not run to the normal format but the Training Team have been planning some new ideas that would work with social distancing. If you would like the option to transfer to another course at a later date we can offer this or a full refund will be given, please contact secretary@bhyc.org.uk and we can administer your refund asap.
If you have any specific queries please contact the Training Team at training@bhyc.org.uk
We truly hope that private lessons can start very soon.
With best wishes.
Principal & Chief Instructor
SAILING SUPPORT

DUTYMAN - click on the button to see the full rota

- scroll down to see more

DUTYMAN FAQ - frequently asked questions


This is a live feed from the BHYC weather station.
Refresh your browser to get the latest report.
Click to see more detail.

Click on this link to see a detailed five day weather and sea state forecast for St Helens (Beach)
SOCIAL ACTIVITIES
Back on the Water
With waterborne activities now allowed and the sun continuing to shine, it is great to see some Members back at the Club. With everyone following the guidance and Club Health & Safety notices, it demonstrated how Phase 1 of our re-opening was not only possible, but also safe and Members who came down clearly loved getting out on the water again! BOTW.MP4
Summer Fun!
The sun was also shining last July when all ages enjoyed the extravaganza that was the Caribbean Day, orchestrated by Club member Gordon Wight. With entertainment from the Island's own Derek Sandy and the Raw Samba Band. Here's to more of the same once it's safe to do so.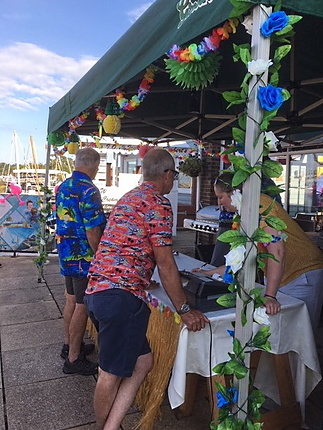 And click here to watch the video - Derek Sandy.mp4

One Definitely For The Ladies
No offence intended gentlemen! Click the link to watch the video - Pam Ayres video.mp4
Brain Teaser Time
Are you a board game fan? See how many of these games you can name - Quiz
Once completed check your answers here - Answers
In Support Of Our Hospice

On Saturday I completed 18 miles of my Walk the Wight My Way challenge raising desperately needed funds for Mountbatten Hospice, so just 8 miles to go. As you can see from the map of my progress I am doing the full walk from Bembridge to the Needles. The Hospice is facing having to cut services if their funding shortfall can't be bridged. With their fundraising events cancelled and shops closed, they're in for a tough year. If you felt able to make a donation, however small, please do so via my JustGiving page link https://www.justgiving.com/fundraising/Jan-Baum and don't forget to tick Gift Aid if applicable.
With my sincere thanks,
Jan Baum - RC Onshore
CLUB CALENDAR


HOUSE, BAR & GALLEY
Further details will be announced as soon as possible. We look forward to seeing you all when normal services resume.
CLUB OPERATIONS
Health & Safety

The Clubhouse remains closed however access to the site is now available to members. The Office and site will be manned by Duncan and I. Members are asked to follow the Club H&S notice prominently displayed as you enter the site.
Communication

For information; I am available during Office hours, Monday to Friday 8am till 3pm, via phone or email and will support in any way I can, email me secretary@bhyc.org.uk.

Please keep safe and well.
John Maher
Club Manager & Secretary
Last updated 12:06 on 27 May 2020