NEWS
BHYC WEEKLY NEWS Issue 699 13th November 19
HEADLINES
Special General Meeting
We are pleased to announce the date for a Special General Meeting - Thursday 28th November, 20:00hrs at the Club.
This Special General Meeting has been called following the outcome of the AGM in September and we are committed to several things:
To learn from the experience of the AGM, listen to the concerns from fellow members post AGM, ensure that this meeting has a positive outcome and to move this Club forward for the benefit of all of us: it's members.
As a key part of the above, to identify and endorse suitable candidates for the post of Commodore, Club Officer and Management Members to recommend to the membership.
Business for discussion will be as follows;
Proposed amendments to Constitution
The election of Officers in accordance with Sections 3, 4 & 5
The election of Members to the Management Committee in accordance with Sections 3,4 & 5
The information provided above will also be part of the Newsletter distributed later this afternoon, posted online and be available at the Club.
In accordance with rule 21 (d) in order to participate in important decisions Mainland Members will be sent a link to vote online. Island Members who are not on the Island due to holiday or work commitment or are unable to attend the SGM through ill health should request the online link by contacting secretary@bhyc.org.uk and stating the reason for the request please.
To access the SGM Booklet please follow this (link).

Best regards,
Management Committee
SAILING & CRUISING

Race Report - Sunday 10th November
A chilly morning with a brisk ENE wind greeted the competitors for last Sunday's Frostbite racing. Seven brave sailors were up for the challenge of 15 22 knots of wind at 7 degrees Celsius.
After discussion and consultation with the wind forecasts, the decision was taken to run the Handicap race outside the harbour and keep the Scow class in the relative calm of the harbour.
Two Lasers, a Solo and an RS 200 made a fine, close start, reaching at speed away from the club line.The conditions were pretty lumpy outside with the incoming waves breaking against the St Helens wall causing difficult conditions for the sailors.The course set was three times around a windward/leeward course with channel buoy No.9 as the leeward mark and an inflatable laid directly to windward in the direction of St Helens fort.Sam Steward suffered a recurring knee injury causing him to retire after the first round.Martyn Davies in the Solo kept his lead over Kristian Schafer's Laser finishing more than one minute ahead but dropped to second place on handicap.Tom and Millie Wilson did some swimming after the RS200 capsized but righted their boat in good order to finish in a strong third position.
The course for the three Scows took in a leeward mark laid east of Fisherman's pontoon, 10A as the windward mark and a return to No.17 on each of the five (shortened to 4) laps of the harbour.
Good spectator sport for those in the club watching some energetic gybes around No.17.Peter Hayward gradually increased his lead with each lap of the course finishing more than five minutes ahead of Paul Gould.Chris Girling sailed a very competent race to come in just a couple of minutes behind Paul.
All competitors clearly had a real adrenalin fix out on the water, big smiles all round.
Handicap
1st Kristian Schafer
2nd Martyn Davies
3rd Tom and Millie Wilson
Sam Steward RTD
Scows
1st Peter Hayward
2nd Paul Gould
3rd Chris Girling
All six of today's crews (race office and safety boat) were 'short notice' volunteers, so very many thanks to Rob and SJ, Karl and Colin, and Anne and Ian.
Sailing team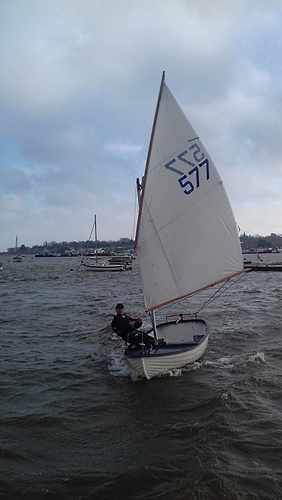 RYA Recognition
Club Member Chris Wilkinson has been recognised by the RYA for his outstanding commitment to BHYC over many years, well done Chris.
Cruiser Walk & AGM Friday 15th November
Our November walk will start at the club at 10 00 for a short local walk before we return for the AGM and lunch at the Club.
The AGM starts at 12 00 followed by lunch.
Save the Date
Christmas is only around the corner so look for that Christmas jumper and hat. Book your club boat now online for the Christmas Cracker Race and Boxing Day !
TRAINING
Youth Sailing
It was an early coaching session last Saturday but most of the cadets got out of bed! Teras, Picos and Lasers were out practising race starts. We thank Spence Willard who supports Youth Sailing at BHYC.
If you would like to know more about the coaching sessions at BHYC please email training@bhyc.org.uk for more information.
Private Lessons and Practice sailing Sessions
If you would like a private lesson, practice sailing or RIB sessions please send an email to training@bhyc.org.uk. The sessions can be weekdays or weekends.
Training team
RYA Safety Boat Courses
The next RYA Safety Boat Course is on the 21st & 22nd November which is now full. This course is FREE in return members will be asked to commit to 10 duties over the year.
If you would like to join the next course or would like to take your PB2 please email your interest to training@bhyc.org.uk

Training team
SAILING SUPPORT
DUTYMAN - click on the button to see the full rota

- scroll down to see more

DUTYMAN FAQ - frequently asked questions





This is a live feed from the BHYC weather station.
Refresh your browser to get the latest report.
Click to see more detail.

Click on this link to see a detailed five day weather and sea state forecast for St Helens (Beach)
SOCIAL ACTIVITIES
Music Night
Members atending last Saturday's free Music Night were treated to a great couple of sets by Sunny & Nik; two really talented musicians producing a beautiful sound. They'll definitely be back!
Bingo - back tonight
A reminder to all our Bingo goers - eyes down for a full house tonight!
Wine Tasting Evening 15th November
Whether you know your Cabernet Sauvignon from your Merlot members are invited to take part in a wine tasting event on Friday 15 November at 7pm. There will be a number of wines to sample and review, and Emily and Chef Webb will be offering meat or vegetarian antipasti boards at £6.50 to compliment the whole occasion. For those that enjoy our fish Friday's we will be serving a choice of fish or scampi as an alternative. Please put your name(s) down, with your choice of antipasti board if applicable, on the list in the Club Foyer, call Emily on 872289 or email social@bhyc.co.uk and we'll do it for you.
Can you help? - Christmas Gift Fayre 22nd & 23rd November
Are you able to lend a hand with the setting up, running and clear down of the Gift Fayre? Set up is from 10am on Friday 22 November and clear down at 4pm on Saturday 23 November. Some furniture shifting is inevitably involved, but I also need help with car park marshalling on the Saturday morning when we open to the public and raffle ticket splitting throughout the event. Please email me details of when you can help and with what via social@bhyc.org.uk or let John in the office know.
With thanks,
Jan Baum RC Social
Are you feeling creative?
Tuesday 26 November 9.30am to 11.30am
Come and enjoy a fun and creative session learning to make unique little figures like the ones below. There is no plastic involved as they're made by hand from sugar fondant and will last for years. All materials provided, but you will need to bring a small plastic chopping board, a small knife, some wet wipes and a container for the finished pieces.
£5 per person and a maximum of 16. Please add your name to the list in the Club Reception if you are interested.


Save The Date
On Sunday 15 December our sailors take to the water for the annual Christmas Cracker race at 12 noon, the Bar will open and Emily and Chef Webb will be serving a delicious Sunday roast. We're reliably informed that Father Christmas will be arriving at 2.30pm with his sack of goodies and there'll be carols to follow. Added to this the'll be table top quizzes, a Christmas Jumper competition, raffle and prizes.
Christmas Community Party
On the 21st December the Club will be holding an all day Christmas party for members, their families, friends and an open invite to the local community - save the date for this exciting event.
Gordon Wight and a team of helpers are organising a special all day Christmas party so we can make a fuss of the children during the day and then make a fuss of the adults and parent s in the evening.
More information will be available next week.
BHYC New Year Party
Numbers are limited so please add your name(s) to the list in the Club foyer or email social@bhyc.org.uk. There are options to book a full table or why not join a Club table and make new friends.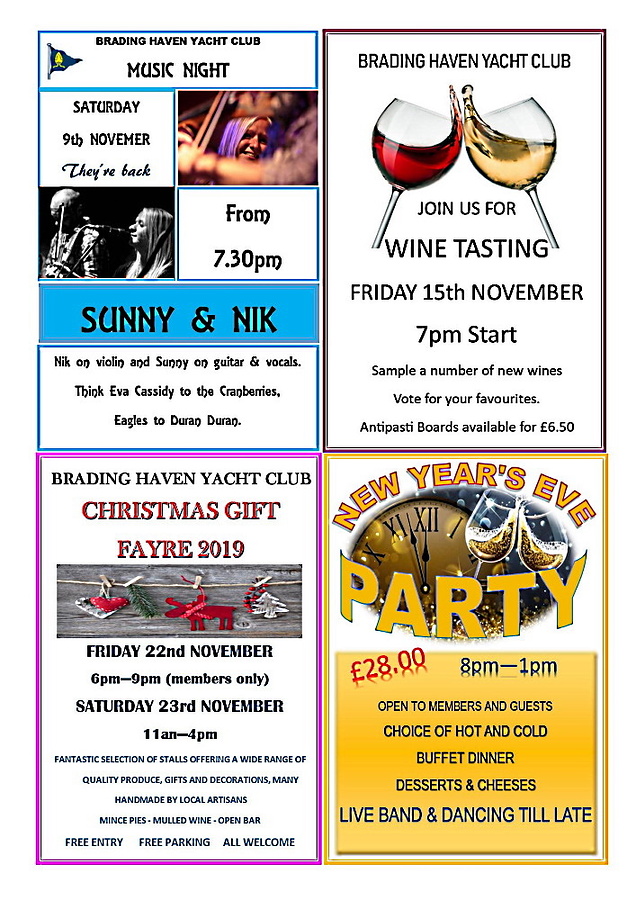 SOCIAL CALENDAR
HOUSE, BAR & GALLEY
Please join us for lunch and evening dining (please note our winter opening times);


| | | |
| --- | --- | --- |
| Thursday - Saturday | Lunch | 12:00 to 14:30 |
| Thursday - Saturday | Evening | 18:30 to 21:00 |
| Sunday | Lunchtime | 12:00 to 15:00 |
Christmas Menu
Please book up for that special Christmas get together. Whether that be for you and your partner, family, friends, a party or work function - we will make it a special evening for you.
Look out for our new Wine of the Month offer - this months offer (available until further notice) - definitely worth trying!



Tres Atlas white & red wine only 9.99 per bottle

CLUB OPERATIONS
Breakfast Club and Ladies Lunch made for a busy Wednesday last week, always great to see the Club busy. On Thursday afternoon Bridge met for their regular weekly session. On Thursday evening Quiz Night tested our teams general knowledge. Friday morning the Coffee Club held their monthly get together. On Saturday evening we were entertained by Sonny & Nik. Racing on Sunday so our sailors braved the cold weather competing in the Harbour and outside the Harbour.
Looking Forward
Bingo is back tonight, eyes down for a full house no doubt. Thursday Haven Bridge continue their weekly sessions. Friday our Cruising Section host their AGM in the afternoon followed by lunch. Friday evening is our wine tasting event. On Saturday and Sunday afternoon our sailors are back on the water and again we hope the weather is better for all of you.
Christmas is getting closer so if you haven't arranged that special party? - If you are planning a celebration or maybe a party do talk to me and let's see how we can cater for your needs. The Club is a great venue for that special event and as a Member it will work out extremely competitive versus other venues so email me secretary@bhyc.org.uk to book up.
Whatever you decide to do and get involved in please enjoy your Club.
Health& Safety
Reminder - the weather has again been poor of late so please check your boat mooring or parking areas to ensure the rain has not impacted the security or safety of your craft.
Communication
Reminder - a watch used for sailing has been handed into me so if you have mislaid or lost such a watch please email me to discuss, secretary@bhyc.org.uk
For information I am available to Members during normal office hours, Monday to Friday 9am till 3pm. If you would like to see me outside of the days and times above let me know and I will accommodate, email me secretary@bhyc.org.uk
John Maher
Club Manager & Secretary
BHYC Club Merchandise

BHYC merchandise is now available to all Members online follow the link below. Order whatever you choose, input the Club address for free of charge delivery and we'll advise you when it is delivered. Any issues contact me direct.
Look out for the new merchandise display cabinet at the Club displaying smaller items that are available at the bar or to order.
To place orders follow this link.
Last updated 11:33 on 13 November 2019