Harvest Festival Race Sunday the 6th October



A Force 5-6 wind forecast deterred many competitors for the annual Harvest Festival Race at Brading Haven Yacht Club, however, entrants were rewarded with a fine sunny evening, flat water and a steady F4 from West North-West. Starting from the club line, Peter Hayward led the fleet down the harbour in his Scow, yet after a hesitant start it wasn't long before Kristian and Karl Schafer sailed past in the Flying Fifteen and out of the harbour, reaching to a mark just south-west of St Helens Fort.
Returning to the club line for a second lap, the Schafer brothers hoisted their spinnaker in the dying breeze and headed out again into the Bay. Although gaining line Honours, it was Peter Hayward who won the race on corrected time. After quickly recovering from a capsize Gabe Davies and Tom Parsons came in a gallant third in their Pico.

Sailing team
---
Come Sail With Us and Ladies that Launch - Saturday, 5th October
With autumnal warmth spreading from the South and a break in the relentless rain the final 2019 offshore edition of CSWU and LTL was held on Saturday. Despite the less than optimistic forecast some lovely breeze was found by the nine boats participating and the sailing area stretched from the fort and Silversands.
Overall 2019 has been a great season of social sailing events, only made possible by our BHYC volunteers who have supported the CSWU and LTL to ensure members can sail safely in the company of others. Thank you to all who have assisted and participated. In 2020 a full programme of activities will be in place and this will expand on this year's success.
Sailing team
---
BHYC Laying up Supper & Prize Giving Saturday 26th
Join us at BHYC for our annual Laying up Supper and Prize Giving on the 26th October.This year we have some news cups for Race Officer of the year, Safety Boat Volunteer of the year and After-School Sailing Cadet of the year.
Please put your name and menu choices on the list in the Club foyer or call the office to reserve your place. All members welcome.

Sailing Committee.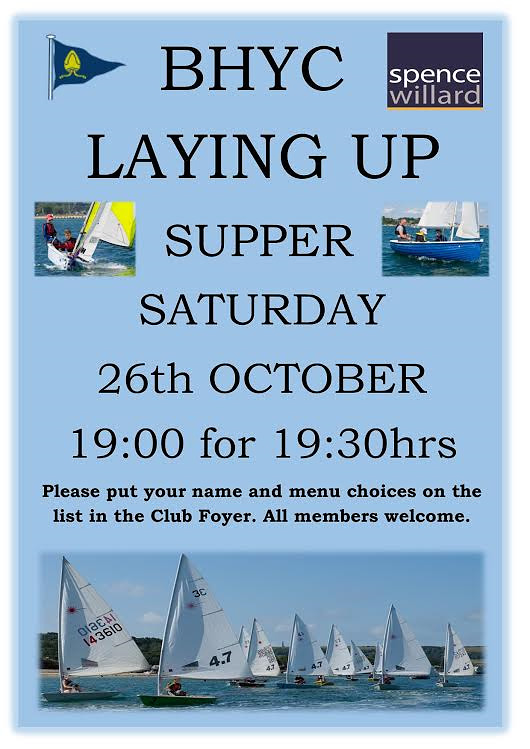 ---
BSC Illusion Invitational Day
Bembridge Sailing Club are running an Illusion Invitational Day on 13th October. It would be really great to have BHYC well represented. If you are interested please let BSC know by emailing oliverlaughtonscott@gmail.com. Further information from BSC;
Event
The objective of the Invitational Day is to introduce Illusion sailing to people who have not sailed Illusions before, but might wish to sail Illusions on a regular basis through-out the season. Ideally owners will invite and assist their own guests.If owners can't be attend but are willing to lend their boats please let Olly know (oliverlaughtonscott@gmail.com).If owners would like to bring more than one guest, please contact another owner to secure a boat.If this is not possible please email Olly.
The event will take place on Sunday, 13th October 2019 in Bembridge Harbour. Racing will commence at 11am.Participants and owners are encouraged to arrive at 9am so the boats can be rigged, and a briefing given.
Format
The final decision about the format will be made on the day depending on conditions.However, the provisional plan is to run a practice race and then two races that score. The races will be typically be, windward/leeward with a gate. No spinnakers.
Other
We plan to have a number of RIBs out so that owners will be able to be on the water to give advice and support as appropriate. Please let Olly know if you plan to bring a guest, so the Club can ensure the appropriate staff are on duty and the correct amount of soup for lunch, is made available after racing.
We will be asking helms to sign the normal disclosure form.
---
Cruiser Rally 14th to 16th October 2019
Our final cruiser rally for 2019 is for 2 nights at Gosport Marina. Unfortunately Port Solent is fully booked due to the closure of Swanwick Marina . HW Portsmouth on the 14th is at 12 47 so boats leaving from Bembridge should be able to cast off at about 10 30 hrs. Then we return to home ports on Wednesday 16th (HW Portsmouth is 14 14hrs).
Please let Anne Prince know if you are interested in coming as soon as possible and at the latest by Monday 8th October to ensure the reservation of sufficient berths.
Cruising Section
---
Cruiser Section Walk Friday 18th October
Our first walk of the winter season will start at the Chequers Inn car park situated on Niton Road (PO38 3NZ) at 10:15am. The walk is about 4 miles and is mostly on lanes and tracks, and covers some marsh land and downland with two short steep sections. Dogs will be required to be on leads if livestock is present. We return to the Chequers where lunch is available.
Please let Anne Prince know if you are coming and if you are wanting lunch by Tuesday15th October. I shall look forward to seeing you.
Ian Jefferies - Cruiser Captain
---
BHYC Social Sailing Night and Happy Hour, Friday 1st November @ 6.30
BHYC social sailing will continue but from the warmth of the bar. Come along and meet the team, share your ideas and find out what's going on. All members welcome.

Last updated 10:48 on 14 October 2019